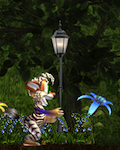 Probably everyone in the history of Creatures has had a world called "Nornia," which might explain the name of this site. (Also, I couldn't think of anything else to call it.) So it seemed only right to have a lamppost.
This is a working lamppost, and can be operated by norns or the hand. It emits light CA when on, and is classified as a toy, so your norns will enjoy playing with it.
I guess now we need a lion statue.